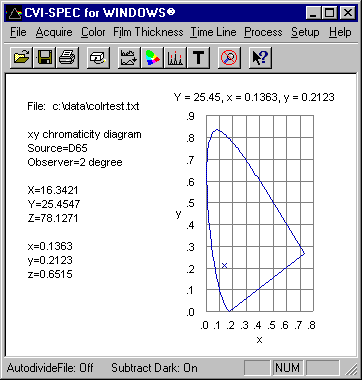 CIE 1931 Color Analysis Report
Features
Transmission, reflectance, and absorbance measurements

Film thickness measurements

Calculates XYZ, Yxy, L*a*b*, Hunter, L*C*h*, DL*a*b*, DL*C*h*, CIE 2º and 10º standard observers.

Time sequence provides procedures for continuous monitoring and display of (a.) full spectra, (b.) amplitude values, (c.) color, (d.) film thickness, (e.) integration over spectral bands, and (f.) ratios of points or of integrated bands.

View multiple traces on a single graph.

Has rubber-band zoom and auto-peak find.

Control signal averages and integration time.

Features intuitive menu system and tool bars.

32 and 64-bit Windows™.
System and Software Requirements
IBM compatible computer with a 486 processor or higher

Microsoft Windows™ 95 or higher

16 MB of RAM

A hard disk with at least 2 MB free space

A CD drive

A VGA, 8415, Hercules, or compatible display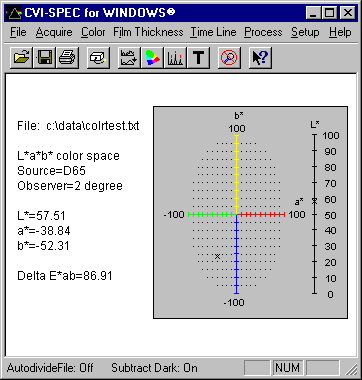 L*a*b* Color Analysis Report